Of course I had to start this blog with one of my own dogs. This is our sweet Atticus. He turned 8 the day the photo for this art was taken.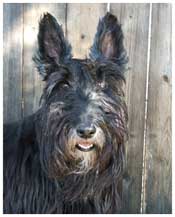 My husband recently added our girl Nessie to his cell phone making her bark his designated ring. So all day at work he thinks about her while his phone is constantly barking. So, I decided he needed to have some brand new Atticus art on his walls at work so he would think about our Scottie boy too.
"Blue Boy"
12 x12 giclee print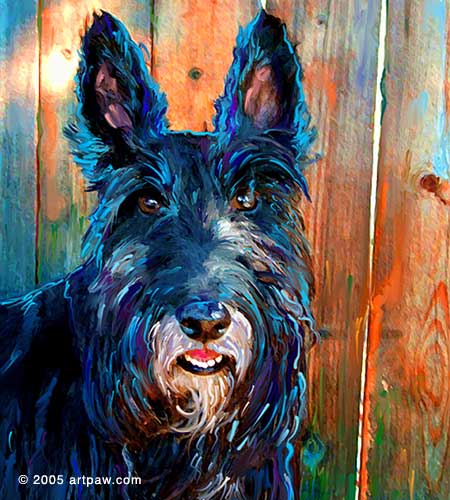 About the Art:
This piece titled "Blue Boy" (above) started with an excellent photo taken by a good friend. I often choose blue for our Atticus and I think that is because his skin has always had a pale blue hue to it. Some puppies like GiGi below have pink tummies and some pup's with thin white coats always look red in the face ... not our blue Scottie. My favorite aspect of this portrait is his graying beard. Atticus is getting older and some of the signs of his aging are quite lovely.
Gi Gi's human sent us just about the cutest photo we have seen in a long time. I fell in love with this girl laying belly up ... what a "scary" pitbull, ha yea right. How can you not love that happy face? I created this portrait in a painterly style using my new wacom tablet. I really enjoyed painting in extra pink on her freckled tummy and chest. Both of the portraits in this post were created in photoshop on a Mac.