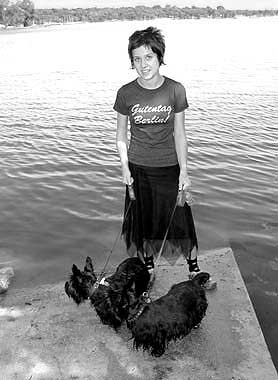 "Lola & Scotts at White Rock Lake Dog Park"
We live in Dallas Texas in an older neighborhood called Casa Linda. We are a 5 minute drive from
White Rock Lake
. This is a man made lake, that thrives and hosts a variety of wildlife, smack dab in the city. On the weekends we take the dogs for long walks there, and Dan rides his bike around the lake at least 3 times a week. On some occasions we will drive around our lake after dinner and smooch in the dark like a couple of teenagers. We love living here and never seem to take White Rock for granted. This weekend I purchased a canoe for Dan for his birthday and we got out
on
the lake, and paddled to the middle. It was so amazing to be in the center looking out. Seeing some of our favorite spots from a distance with water all around really opened my mind up in a lot of ways.
photograph by Dan Collins


So even though I worked this weekend and handled two portrait clients, we managed to squeeze in some play, and the mini-break of 3 hours was like an entire vacation. Later that day I laughed to myself and decided that our small 2 bedroom cottage is actually a "Lake House". No longer do I see my home as a tiny bungalow that can barely contain my growing business... nope we live in a lake house and we have a "boat".
Yes ... we are living the life!
Do you have treasures in your own backyard that you may not be "treasuring". If you are a city dweller go out and find those magical spaces in your city that are over-flowing with birds and other wildlife. There is no better way to recharge your battery!

Photos Above From a White Rock Lake Flickr Group ( not my own).