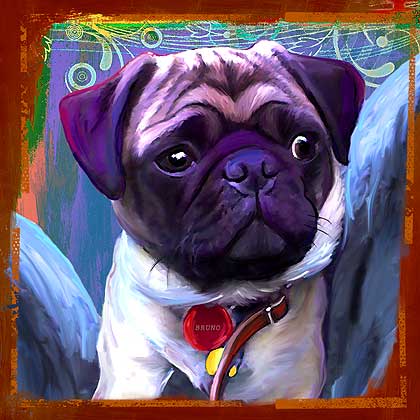 "Bruno"
(see all 6 proofs)
Original photo above

This cute little guy is Bruno and his Mom is a very old Art Paw client. Hmmm that did not sound right at all. She is not old, but she did commission a pet portrait with us years ago when we were first starting out ... I think we were both just teenagers back then. Bruno's new artwork was created in my painterly style and the approved proof is # 5 with the fun and funky Mod circle ground.
When Shelley ordered her first portrait with us, way back in 2002 we were focused on Warhol looks and Master Paw Prints. The pop art image below of Daisy was Shelley's first project with us. That expression and side "eyeball look" made Daisy an instant Puggie favorite around here.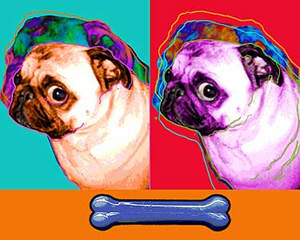 "Daisy"


Just a few of our other painterly Pugs on Youtube Video
click to play