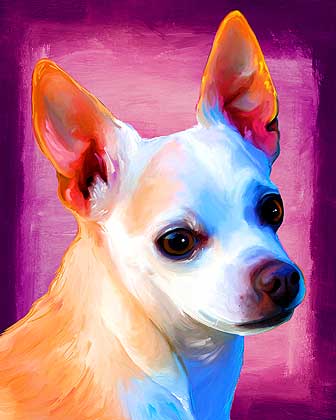 Last week we shipped our first celebrity dog. This Chihuahua is Mr. Topaz and he belongs to legendary rock & roll star
Jerry Lee Lewis
.
His daughter Phoebe ordered a custom portrait of this sweet little Chihuahua. I enjoyed skimming through
her blog
to learn that Jerry has a bad habit of sneaking tater tots and oatmeal cookies to Topaz. Last week I e-mailed Phoebe to get permission to blog on this project. Topaz was a joy to work on due to the terrific high quality original image. The image above was chosen among a group of 4 proofs.
The web is such an amazing place. We have shipped to Japan, Germany and England. We have also had been commissioned to create portraits of famous humans such as Bill Gates & Steve Jobs for an executive conference put on by the Wall Street Journal. Now we are thrilled to have even pushed pixels for one of Rock & Roll's living legends. I have always said I am not one to be impressed by celebrities, but it is pretty easy to get a tad star-struck when you are allowed to play with their pups, especially when the pup is as cute as Topaz.