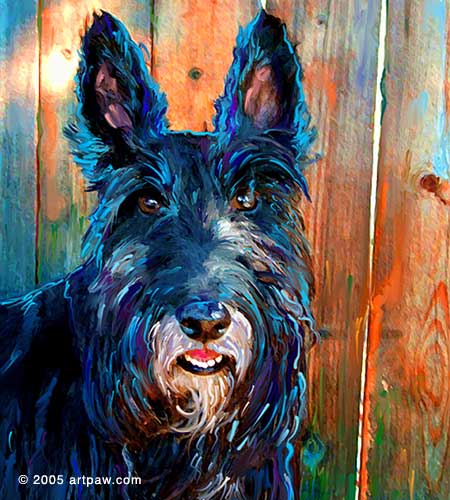 "Our Atticus"
Sunday marked our 4rth year without our boy Atticus. He was Dan's soul-dog and we still grieve for him. We lit a few candles this weekend for him and for the many other pets we saw pass this last month. Bunky, Kylie & Skippy are all romping around with our boy at the rainbow bridge. I have also worked on several memorials this month. Rudee & Fritz, my last 2 kitty projects were both memorials.
Our heart also goes out to Mark & Lori. This weekend they wrote me a sweet and sad letter about Pino. Their little poodle-boy passed on March 8th, just 19 days shy of his 14rth Birthday. We had created artwork for them awhile back, I think it was early 08. I am so glad we had the opportunity to work with them while their pretty boy was here with them. Mark's letter brought tears to my eyes. I never know what to say to people when they loose a fur-kid and in reality there is no perfect thing to say.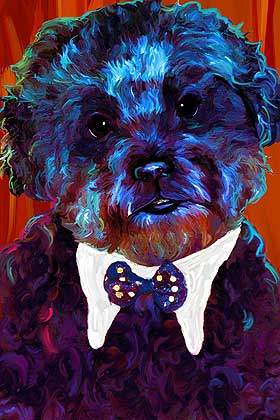 "Sweet Pino"
Dealing With Pet Grief:
There are a gazillion ways to handle pet grief and everyone will have a different coping method that will work for them. I can share what worked for us when Atticus passed. When our boy left us it was a lovely spring month and we spent every single weekend we had out in the backyard working together on flower beds and new gardens. Even though we still had our girl Nessie the house seemed strange and quite. Being outside with our hands in the dirt seemed like the best way to cope with the loss of our little earth dog. The sunshine was good for us and I know it was good for Nessie. Neither of us said hey let's work outside today we will feel better, but it turned out to be the best medicine we could find.
Creating new routines:
The times in our lives where we miss them the most are really the common moments, the small daily routines and tiny rituals that our pets were a part of. I think when a loss is new and your heart is so very raw it is important to create some new routines that will move you forward a bit. You should be going to new parks, planting, reading, writing, whatever you need to do to find yourself out in the world living life. We often found ourselves thinking "Atticus would love this place". The goal is not to forget, but to keep living and keep loving.
Respecting everyone's loss:
The other thing I would suggest is that it is very important to respect and try to understand a partner's grieving process. No two people will process the stages of grief on the same time table. People can try to help each other and yet ultimately our grief is our own. Don't forget to be sensitive and aware of how your other pets are handling loss. Our little Scottie girl Nessie was so heartbroken that she did not even get excited about biscuit treats, and she was a real chow hound. We adopted Ajax before we were emotionally ready because we knew that our little Nessie was ready, and she adored her one year old puppy boy. He brought her out of a deep depression.
Today I am wishing peace and comfort to everyone that is coping with loss. I welcome any comments that may offer additional perspectives and approaches. Few of us are experts on grief, however I know that many of you have been down that road so please share if you can.